SrI: SrImathE SatakOpAya nama: SrImathE rAmAnujAya nama: SrImath varavaramunayE nama:
History
SrImath kAnchImunim vandhE kamalApathi nandhanam
varadhAngri sadhA sanga rasAyana parAyaNam
ஸ்ரீமத் காஞ்சீமுநிம் வந்தே கமலாபதி நந்தநம்
வரதாங்க்ரி ஸதா ஸங்க ரஸாயந பராயணம்
dhEvarAja dhayApAthram SrI kAnchi pUrNam uththamam
rAmAnuja munEr mAnyam vandhEham sajjanAsrayam
தேவராஜ தயாபாத்ரம் ஸ்ரீ காஞ்சி பூர்ணம் உத்தமம்
ராமாநுஜ முநேர் மாந்யம் வந்தேஹம் ஸஜ்ஜநாச்ரயம்
main entrance
pushpa valli thAyAr and dhEva perumAL (varadharAjan)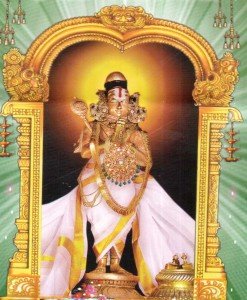 thirukkachchi nambi (kAnchI purNa)
sthalAdhipathi (owner): varadharAja perumaL, thirukkachchi nambigaL
vimAnam: puNyakOti vimAnam
This dhivya kshEthram is known as thirukkachchi nambi and dhEva perumAL dhEvasthAnam. Also known as pushpapuri, this is the avathAra sthalam of thirukkachchi nambi (kAnchI purNa) who was greatly admired by emperumAnAr (SrI rAmAnuja) himself. thirukkachchi nambi was a dear sishya of ALavandhAr and was constantly serving dhEva perumAL (varadharAjan emperumAn) in kAnchIpuram. He was performing thiruvAlavattam (fanning) kainkaryam to dhEva perumAL. dhEva perumAL is known to have regularly conversed with nambi.
thyAga maNdapam (kAnchIpuram) – SrI rAmAnuja, thirukkachchi nambi, dhEva perumAL
thirukkachchi nambi was guiding SrI rAmAnuja in his early days while SrI rAmAnuja was in kAnchIpuram. When SrI rAmAnuja had some doubts in his mind, he approached thirukkachchi nambi and requested him to clarify those doubts from dhEva perumAL. When nambi mentions that SrI rAmAnuja has some doubts, dhEva perumAL says SrI rAmAnuja already knows every thing but yet learns these through emperumAn/AchArya to establish the proper method of learning. He further explains 6 principles to nambi and asks nambi to convey the same to SrI rAmanuja. The six principles are:
I am the supreme
jIvAthmAs are distinct from me
For such jIvAthmAs, the only means to achieve me is through total surrender
For such surrendered jIvAthmAs, salvation from the cycle of birth and death is at the end of the current life itself
For such surrendered jIvAthmAs, while leaving their body, they need not remember me, rather I will remember them and uplift them
SrI rAmAnuja should approach periya nambi and accept him as AchArya
nambi conveys this to SrI rAmAnuja and SrI rAmAnuja is greatly delighted to hear the clear instructions from emperumAn. Thus, thirukkachchi nambi has played a vital role in nurturing SrI rAmAnuja in our sath sampradhAyam.
emperumAn appears as varadharAjan (of kAnchIpuram), ranganAthan (of SrIrangam) and SrInivAsan (of thiruvEngadam) to give dharshan for thirukkachchi nambi in this sthalam. Many uthsavams are celebrated in a grand manner here.
Summary
perumAL: varadharAjar (dhEva perumAL)
mUlavar posture: standing
thAyAr: pushpavalli thAyAr
sthalAdhipathi/AchAryan: thirukkachchi nambi (kAnchI purNa)
pushkariNi:
Agamam: SrI vaikAnasam
There are several sannidhis and uthsavams that happen for the emperumAns, AzhwArs and AchAryas in this sthalam.
Presiding deity

mUlavar – dhEva perumAL (varadharAjan) with SrI dhEvi and bhU dhEvi nAchiyArs. Here dhEva perumAL is seen with sUrya maNdalam in the background – unique dharshan.
uthsavar – dhEva perumAL (varadharAjan) with SrI dhEvi and bhUmi dhEvi nAchiyArs

SrI ranganAthan – mUlavar and uthsavar – lying down on sEsha paryangam (serpent bed) on top of kUrmAsanam
thiruvEngadamudaiyAn (SrInivAsar) with SrI dhEvi and bhUdhEvi nAchiyArs

ALavandhAr (separate sannidhi)
Outside the temple:
thiruvadi (hanumAn – separate temple)
uthsavams
chithrai

emperumAnAr uthsavam on thiruvAdhirai

vaikAsi

dhEva perumAL – 10days uthsavam completing on hastham

Ani
Adi

ANdAL – 10days uthsavam completing on pUram
ALavandhAr – 10 days uthsavam  completing on uthrAdam

AvaNi

SrI jayanthi – rOhiNi/ashtami followed by uriyadi uthsavam on the next day

purattAsi

thiruvEngadamudaiyAn – 10 days uthsavam completing on purattAsi thiruvONam/avittam
navarAthri uthsavam – 9 days
vijaya dhasami

aippasi

maNavALa mAmunigaL uthsavam completing on thirumUlam
dhIpAvaLi

kArthigai
mArgazhi

dhanur/mArgazhi mAsam kramam
adhyayana uthsavam
vaikuNta EkAdhasi (rA pathu beginning)

thai

sankarAnthi
kanu uthsavam – thAyArs puRappAdu to

mAsi

thirukkachchi nambi thiruvavathAra (10 days) uthsavam  completing on mrgasIrsham

panguni

3 garuda sEvai for varadharAjan, SrI ranganAthan and SrInivAsan
Timings
sEvAkAla kramam
During viswarUpam – dhEvarAja suprabAtham and mAmunigaL's dhEvarAja mangaLam. Shortly after that – thiruppaLLiyezhuchchi.
During morning thiruvArAdhanam – thiruppallANdu, thiruppAvai and rAmAnusa nURRandhAdhi
During evening thiruvArAdhanam – nithyAnusandhAnam – thiruppallANdu, pUchchUttal, kAppidal, chenniyOngu (all 3 from periyAzhwAr thirumozhi), amalanAdhipirAn, kaNNinuN chiRu thAmbu, ulagamuNda peruvAyA (thiruvAimozhi 6.10)
puRappAdu kramam
puRappAdu only during uthsavams
Monthly celebrations
hastham – dhEva perumaL (varadharAjan emperumAn) thirunakshathram

Morning – thirumanjanam
thiruppAvai gOshti and sARRumuRai

mrgasIrsham – Every month, mrgasIrsham (thirunakshathram of thirukkachchi nambi) is celebrated with

4pm – thirumanjanam for thirukkachchi nambi
thiruppAvai gOshti and sARRumuRai
7.30pm – rAmAnusa nURRandhAdhi gOshti and sARRumuRai
Special notes
dhEva perumAL (varadharAjan), SrI ranganAthan and thiruvEngadamudaiyAn (SrInivAsan) are present in individual sannidhis
In april, garuda sEvai  (perumAL on garuda vAhanam) puRappAdu is celebrated for all 3 perumALs together on the same day
avathAra sthalam (janma sthAnam/birth place) of thirukkachchi nambi (kAnchI pUrNa) who is one of the sishyas of ALavandhAr and was greatly admired by SrI rAmAnuja himself
T Valluvan – Officer,
thirukkachchi nambi temple,
pUvirunthavalli (poonthamallee – near bus terminus),
Chennai – 600056.
Phone: 044-26272066
Location: About 20 kms from chennai central and about 50 kms from kAnchIpuram. Easily reachable from chennai (main) by bus and taxis.