SrI:  SrImathE SatakOpAya nama:  SrImathE rAmAnujAya nama:  SrImadh varavaramunayE nama:
History
purusha mangalam also known as pachchai vAraNa perumAL kOyil, pachchai vAraNa puram, haritha vAraNapuram, varadharAjapuram, etc and is presently known as pEttai is situated right in-between pUvirunthavalli (avathAra sthalam of thirukkachi nambi) and thirumazhisai (avathAra sthalam of thirumazhisai AzhwAr). This is the avathAra sthalam of mudhaliyANdAn who is emperumAnAr's dear sishya.
emperumAn descended here as haritha vAraNa (pachchai vAraNa – green elephant) perumAL to bless yudhishtra who apparently misled dhrONAchArya by saying "asvaththAma is dead" (asvaththAma is the name of dhrONAchArya's son as well as an elephant). thAyAr in this dhivya dhEsam is known as amirthavalli thAyAr.
Along with kUrathAzhwAn, mudhaliyANdAn approaches SrI rAmAnuja and both of them become his first sishyas and learn everything from him. Subsequently, they both go to SrIrangam with SrI rAmAnuja and assist him in the propagation of this glorious sath sampradhAyam which becomes to be known as "emperumAnAr dharisanam". Since the times of dhAsarathi (mudhaliyANdAn) this dhivya kshEthram is famously known for it being his avathAra sthalam (birth place).
Please visit http://www.mudaliandan.com/ for various activities related to mudhaliyANdAn swamy thirumALigai. Many thanks to this website which provided quite a bit of useful information about this sannidhi and wonderful pictures.
Summary
perumAL: pachchai vAraNa perumaL (haritha vAraNa perumAL – green elephant)
mUlavar posture: sitting
thAyAr: amirthavalli thAyAr
sthalAdhipathi/AchAryan: mudhaliyANdAn
pushkariNi: dharma pushkariNi
Agamam: SrI vaikAnasam
Deities/uthsavams
There are several sannidhis and uthsavams that happen for the emperumAns, AzhwArs and AchAryas in this dhivya dhEsam.
Presiding deity

thanikkOyil nAchiyArs (separate thAyAr sannidhis)

SrI rAma parivAr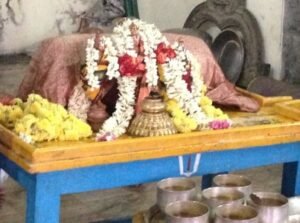 Outside the temple:
uthsavams
chithrai

mudhaliyANdAn thiruvavathAra uthsavam – 10 days concluding on punarpUsam

vaikAsi

nammAzhwAr – vaikAsi visAkam

Ani
Adi
AvaNi

SrI jayanthi – rOhiNi/ashtami followed by uriyadi uthsavam on the next day

purattAsi

navarAthri uthsavam – 9 days – daily thAyAr Unjal (jhUla/swing) sEvai (dharshan)

aippasi

pavithrOthsavam
maNavALa mAmunigaL on thirumUlam
dhIpAvaLi

kArthigai

kArthigai dhIpam
thirumangai AzhwAr – kArthigai

mArgazhi

dhanur/mArgazhi mAsam kramam

thai
mAsi
panguni

perumAL brahmOthsavam

garuda sEvai on 4th day (generally will be punarpUsam) – mudhaliyANdAn will accompany perumAL in puRappAdu
thIrthavAri on panguni uthram
Timings
7.30am – 11.30am
4.30pm – 8.30pm
sEvAkAla kramam
puRappAdu kramam
chithrai punarpUsam – mudhaliyANdAn thiruvavathAra uthsava kramam
Morning

puRappAdu around 8am
sARRumuRai with iyal sARRu

Afternoon

thirumanjanam around 2.30pm (pls confirm with bhattar (phone number in contacts page) since some days there may be EkAntha thirumanjanam only)
thiruppAvai and mudhalAyiram/periya thirumozhi gOshti and sARRumuRai

Evening

paththi ulA, Unjal (jhUla) dharshan around 7pm
puRappAdu around 8pm
return to vAhana maNdapam
return to AsthAnam
thiruvAimozhi gOshti and sARRumuRai
Special notes:
Every month, on punarpUsam, thirumanjanam is performed for mudhaliyANdAn at around 3.30pm. Followed by that, thiruppallANdu, thiruppAvai and perumAL thirumozhi are recited.
Contacts
Hereditary Trustee: Smt Jayanthi Natarajan
pachchai vAraNa perumAL/mudhaliyANdAn dhEvasthAnam
Nazarethpettai
Chennai 602103
Contact: SrI u vE mudhaliyANdAn swamy.
Location: Off Chennai/Bangalore highway, right after Poonamallee (pUvirunthavalli) and before thirumazhisai – locally known as nazarethpEt or agaramEl. Many buses, taxis and autos are available.