SrI: SrImathE SatakOpAya nama: SrImathE rAmAnujAya nama: SrImath varavaramunayE nama:
History
One of the most important qualities of bhagavAn is puNdarikAkshathvam (having lotus eyes). This feature is one of the parama purusha lakshaNams (that which identify the supreme lord) similar to that sriya:pathithvam (being the husband of SrI mahAlakshmi), garuda vAhanathvam (riding the garuda), etc. In this dhivya dhEsam, emperumAn appears as puNdarikAkshan.
pankayaRchelvi thAyAr – puNdarikAksha perumAL
This dhivya dhEsam is also known as svEthagiri (white mountain). Legend says that, this dhivya dhEsam was built by sibhi chakravarthy (an emperor of raghu vamsam – the clan in which SrI rAma appears subsequently). sibi ventured out from ayOdhyA to kill rAvaNa. On the way, he stops at svEtha giri. Here by the divine will of bhagavAn, he is ordered not to pursue the mission to kill rAvaNa. bhagavAn orders sibi to build a temple here and thus thiruveLLaRai temple is built. This temple pre-dates SrIrangam temple, as sibi is an ancestor of SrI rAma and SrIrangam temple was built during the times of SrI rAma by vibhIshaNAzhwAn.
There is great importance for pankayaRchelvi thAyAr (srI mahAlakshmi) in this dhivya dhEsam.
periyAzhwAr and thirumangai AzhwAr have performed mangaLAsAsanam for this emperumAn. periyAzhwAr assumes a motherly bhAvam and performs mangaLAsAsanam for emperumAn treating him as kaNNan in 10 pAsurams.  thirumangai AzhwAr enjoys different avathArams of emperumAn in this dhivya dhEsa padhigam (decad) in his periya thirumozhi.
This dhivya dhEsam is also where great AchAryas like uyyakkoNdAr and engaLAzhwAn took birth.
Descendants of engaLAzhwAn (also known as ammAL AchArya – AchArya of nadAthUr ammAL) is the sthala AchArya purusha and their thirumALigai (residence) is present in this dhivya dhEsam.
Deities/uthsavams
First, inside the temple:
Presiding deity

mUlavar – puNdarIkAkshan (kaNNan)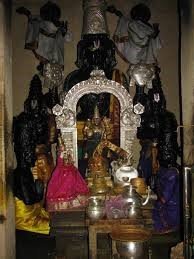 uthsavar – senthAmarai kaNNan, pankayaRchelvi thAyAr.
thanikkOyil nAchchiyArs (separate thAyAr sannidhis)

sengamalavalli/senbagavalli thAyAr

chakkarathAzhwAr
Outside the temple:
thiruveLLaRai ammAL AchAryan (descendant of engaLAzhwAn) thirumALigai
uthsavams
chithrai

perumAL and thAyAr kOdai uthsavam
emperumAnAr  – thiruvAdhirai
vaikAsi

perumAL vasantha uthsavam 7 days
nammAzhwAr – visAgam
pUchchAththu uthsavam 9 days

Adi

jEshtAbishEkam
dhakshiNAyaNa vAsal (gate) thiRappu (opening)
AvaNi

SrI jayanthi – rOhiNi/ashtami followed by uriyadi uthsavam on the next day
pavithrOthsavam – 5 days starting with sukla EkAdhasi

purattAsi

navarAthri uthsavam – 9 days
vijaya dhasami

aippasi

maNavALa mAmunigaL – thirumUlam
dhIpAvaLi

kArthigai

kArthigai dhIpam
Unjal uthsavum

mArgazhi

dhanur/mArgazhi mAsam kramam
vaikuNta EkAdhasi

thai

sankarAnthi – uththarAyaNa vAsal (gate) thiRappu (opening)
kanu uthsavam

mAsi
panguni
Timings
9am – 1pm
3.45pm – 7.45pm
sEvAkAla kramam
Morning – thiruppallANdu/thiruppAvai
Evening

thiruppallANdu
periyAzhwAr thirumozhi – indhiranOdu piraman – 1.5.8 – sthala pAsuram, senniyOngu (last padhigam)
periya thirumozhi 5.3 – venRi mA mazhuvendhi – sthala pAsuram
thiruvAimozhi – ulagamuNda peruvAyA (6.10), kangulum pagalum (7.2), Azhiyezha (7.4)
puRappAdu kramam
EkAdhasi, amAvAsyai, mAsa pravEsam – puRappAdu maNdapam and thirumanjanam
Outside puRappAdu only during uthsavams
Thanks to SrInivAsan (SrIdhar) swamy (puththUr/thiruvallikkENi) who gathered this information from varthamAna ammAL AchAryan swamy.
mangaLAsAsanam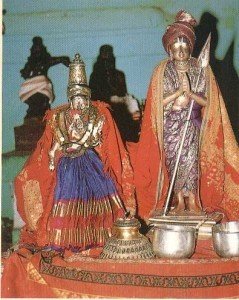 puNdarikAksha perumAL dhEvasthAnam
thiruveLLaRai 621009
Contacts:
Near Trichy – can be reached by buses, taxis, autos from Trichy.