SrI: SrImathE SatakOpAya nama: SrImathE rAmAnujAya nama: SrImath varavaramunayE nama:
History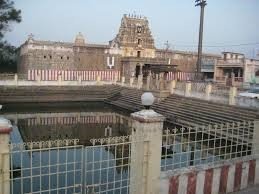 thirupputkuzhi is one of the dhivya dhEsams in thoNdai maNdalam (kAnchIpuram-chennai region). thiru – auspicious, puL – bird (jatAyu), kuzhi – burial pit. jatAyu mahAraja (vulture king) fights with rAvaNa in attempting to rescue sIthA pirAtti. In the process, he gets fatal injuries, falls down and is breathing his last moments when SrI rAma arrives there. SrI rAma becomes deeply overwhelmed with with emotions on seeing jatAyu in his last moments. SrI rAma considered jatAyu mahAraja as his father and at once granted him mOksha. It is a rare manifestation of supremacy by SrI rAma who by and large manifested a humanly character throughout his avathAram. SrI rAma then performs jatAyu's last rites (as he would do for his own father).
In this connection, a beautiful incident is narrated in the lives of our pUrvAchAryas. It was the times in SrIrangam when nampiLLai was leading our SrIvaishNava sath sampradhAyam in a glorious manner. Once naduvil thiruvIdhi piLLai bhattar (a descendant of kUrathAzhwAn and who was a little bit jealous on nampiLLai's glories) was going to the king's court. He meets pinbhazhagiya perumAL jIyar (who is a sishya of nampiLLai and was incidentally was born in this thirupputkuzhi dhivya dhEsam) and invites him along to the court. When they go to the king's court, the king asks naduvil thiruvIdhi piLLai bhattar to explain how SrI rAma could give mOksham to jatAyu if he was simply manifesting humanly character. bhattar was perplexed since he could not think of a reasonable explanation reconciling SrI rAma's human behaviour and benedicting jatAya mahAraja with mOksham. The king gets distracted with some administrative tasks at that time. bhattar turns around to pinbhazhagiya perumAL jIyar and asks him how nampiLLai would explain that. jIyar says "He would explain this through 'sathyEna lOkAn jayathi' slOkam". bhattar being a scholar at once understands the meaning. This slOkam explains that a truthful person will rule over all worlds – since SrI rAma being the most truthful he was able to send off jatAyu to paramapadham (which is the spiritual world). The king returns in the mean time and enquires bhattar for the explanation. bhattar explains the principle and the king is amazed by the explanation. He honors bhattar with lots of wealth. bhattar rightfully goes straight to nampiLLai along with jIyar, offers the same to him and tells him that the huge wealth was a reward for the few words of explanation of nampiLLai. He then becomes a dear sishya of nampiLLai and serves him then onwards. This is a nice connection between this dhivya dhEsam and our pUrvAchAryas in-depth knowledge in sampradhAyam matters.
SrI rAmAnuja, in his early years, studied vEdhAntham (pUrvapaksham perspective) under yAdhava prakAsa (adhvaitha scholar) in this dhivya dhEsam. Subsequently, yAdhava prakAsa becomes SrI rAmAnuja's sishya and becomes a staunch visishtAdhvaidha scholar.  We can see a small stone etching of SrI rAmAnuja standing near yAdhavaprakAsa, near SrI ANdAL sannidhi.
One interesting aspect of SrI rAmAnuja sannidhi here – when yAdhavaprakASa in his later life realized his mistake and wished to become a disciple of SrI rAmAnuja, he had to go around the world three times as a penance for removing the sacred thread etc., as a pUrvapakshi. He decided to go around SrI rAmAnuja himself three times since he considered SrI rAmAnuja as his world. Interestingly, in this temple, SrI rAmAnuja sannidhi is such that one could go around just that sannidhi, unlike in many other temples where SrI rAmAnuja sannidhi would be attached to a wall and so not possible to do so.
Thirupputkuzhi is the divine birth place of pinbazhagiya perumAL jIyar, and also thirupputkuzhi jIyar.
vEdhAnthAchAryar has sung paramArtha sthuthi in glorification of vijaya rAghava perumAL.
maNavALa mAmunigaL visited this dhivya dhEsam as part of thoNdai nAdu dhivya dhEsams and performed mangaLAsAsanam to this emperumAn.
dhivya prabandhams
thirumangai AzhwAr has performed mangaLAsAsanam to this dhivya dhEsam emperumAn in his periya thirumozhi and periya thirumadal.
In thiruppAvai pAsuram – kanaiththiLam – 'manaththukku iniyAn' being SrI rAman (vijaya rAghavan), this pAsuram is recited twice in this dhivya dhEsam.
In upadhEsa raththina mAlai, the pAsuram on pinbazhagiya perumAL jIyar is recited twice in this dhivya dhEsam.
There are several sannidhis and uthsavams that happen for the emperumAn, AzhwArs and AchAryas in this dhivya dhEsam.
Presiding deity
thanikkOyil nAchchiyArs (separate thAyAr sannidhis)
AzhwArs (except thirumazhisai AzhwAr)
Outside the temple:
jatAyu sannidhi
thiruvadi (hanumAn) sannidhi
uthsavams
chithrai

SrI rAma navami uthsavam
emperumAnAr – thiruvAdhirai

vaikAsi
Ani

jyEshtAbishEkam – kEttai
thirumUlam – eedu uthsavam – SrI sailEsa dhayApAthra thaniyan avathAra uthsavam

Adi
AvaNi

SrI jayanthi – rOhiNi/ashtami followed by uRiyadi uthsavam on the next day
pavithrOthsavam

purattAsi

maragathavalli thAyAr and vijayarAgava perumAL – thirukkalyANa uthsavam
navarAthri uthsavam – 9 days
vijaya dhasami

aippasi

maNavALa mAmunigaL – thirumUlam
dhIpAvaLi

kArthigai
mArgazhi

dhanur/mArgazhi mAsam kramam
adhyayana uthsavam
vaikuNta EkAdhasi

thai

sankarAnthi
theppOthsavam – 3 days

mAsi

vijaya rAghava perumAL brahmOthsavam – 10 days

panguni

uthram – perumAL/thAyAr sErthi (together)  uthsavam
Timings
7am – 12 noon (7 – 8.30 am visvarUpam, nithyAnusandhAnam – public dharsan after this time only)
4pm – 7pm
sEvAkAla kramam
Morning – thiruppallANdu, thiruppAvai
Evening – For AzhwAr/AchArya thirunakshathram their own pAsurams
puRappAdu kramam
Special notes
This dhivya dhEsam is glorified as jatAyu thIrtham as emperumAn manifests himself as vijaya rAghavan (SrI rAma) to give mOksham for jatAyu. There is a separate sannidhi for jatAyu mahAraja on the banks of the pushkariNi (temple tank).
Special dharsan on every amAvAsyai.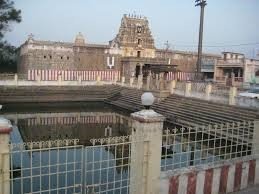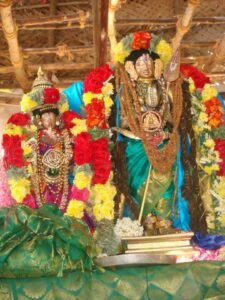 Contacts
Sri Vijayaragavaswamy temple
Thirupputkuzhi,
Via Baluchetty chathram,
Kanchipuram district
Phone: 044-2724-6501
EO office at Kanchi Kumarakottam Temple.
Located about 10 kilometers from kAnchIpuram and 75 kilometers from chennai off chennai-bangalore highway.
kainkaryams are done through Maragathavalli Sametha Sri Vijayaragava perumal trust (MSVRP trust). Trustee of this trust can be contacted through 9445214825.