SrI: SrImathE SatakOpAya nama: SrImathE rAmAnujAya nama: SrImath varavaramunayE nama:
History
brindhAraNya nivAsAya balarAmAnujAya cha
rukmiNi prANa nAthAya pArtha sUthAya mangaLam
thiruvallikkENi, also known as brindhAraNya kshEthram is one of the most important dhivya dhEsams. This dhivya dhEsam is the divine abode of five emperumAns – pArthasArathy, narasimhan, SrI ranganAthan, varadharAjan and SrI rAma. In a single dhivya dhEsam, we can worship all these emperumAns who are mercifully blessing everyone.
Both pArthasArathy and narasimhan emperumAns have their own dhvaja sthambam, entrances and brahmOthsavams. SrI ranganAthan emperumAn is said to have arrived first to this dhivya dhEsam. His divine consort is vEdhavalli thAyAr who is the dear daughter of bhrugu rishi. varadharAjan emperumAn and SrI rAma also enjoys their own uthsavams every year.
SrInivAsan emperumAn (thiruvEngadamudaiyAn) descends to this divine abode as krishNa (with two hands) on the request of king sumathi who wanted to see thiruvEngadamudaiyAn with two hands as krishNa. Thus the main emperumAn became to be known as vEnkata krishNan.
It is also said that pArthasArathy emperumAn himself appeared as emperumAnAr in this world to fulfill the prayers of kEsava sOmayAji (father of SrI rAmAnuja).
Many uthsavams are celebrated in this dhivya dhEsam in a grand manner throughout the year. 4000 dhivya prabhandham is recited several times throughout the year with great enthusiasm and fervour by the young and old SrIvaishNavas. There is a thriving SrIvaishNava community around the town which facilitates many spiritual activities such as dhivya prabhandham learning and contests, regular grantha kAlakshEpams and upanyAsams, spiritual events such as book releases, dramas, musical programs, etc. All in all, in the current situation, this is one of the ideal places for SrIvaishNavas to live and nurture their children, etc., into the spiritual path.
Official website of the temple is www.sriparthasarathytemple.tnhrce.in
There are several sannidhis and uthsavams that happen for the emperumAns, AzhwArs and AchAryas in this dhivya dhEsam.
thanikkOyil nAchchiyArs (separate thAyAr sannidhis)

ANdAL (SrI pArthasArathy's divine consort)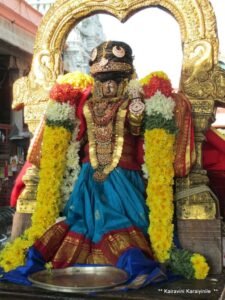 ananthan
garudan
chakkarathAzhwAr
Outside the temple:
thiruvadi (hanuman)
nammAzhwAr (sannidhi annexed to vAhana maNdapam)
nampiLLai sannidhi (separate management) in pEyAzhwAr kOyil street
uthsavams

chithrai

pArthasArathy perumAL brahmOthsavam – 10 days – thIrthavAri on sravaNam
emperumAnAr – 10 days completing on thiruvAdhirai

vaikAsi

varadharAja perumAL uthsavam – 10 days
vasantha (spring) uthsavam
nammAzhwAr uthsavam  – 10 days completing on visAkam

Ani

theLLiya singar (narasimhar) brahmOthsavam – 10 days
kOdai (summer) uthsavam

Adi

ALavandhAr – 10 days uthsavam completing on uthrAdam
Adi garudOthsavam (gajEndhra mOksham)
ANdAL uthsavam  – 10 days completing on pUram
jyEshtAbishEkam
thiruppAvadai uthsavam

AvaNi

pavithrOthsavam – 7 days
SrI jayanthi – rOhiNi/ashtami followed by uRiyadi uthsavam on the next day

purattAsi

navarAthri uthsavam – 9 days
vijaya dhasami

aippasi

maNavALa mAmunigaL uthsavam – 10 days completing on thirumUlam
pEyAzhwAr uthsavam – 10 days completing on sathayam
dhIpAvaLi
anna kUta uthsavam

kArthigai

thirumangai AzhwAr uthsavam – 10 days completing on kArthigai
kArthigai dhIpam

mArgazhi

dhanur/mArgazhi mAsam kramam
adhyayana uthsavam
vaikuNta EkAdhasi (rA paththu beginning)
ANdAL nIrAtta uthsavam – 9 days
ANdAL thirukkalyANam on bhOgi

thai

sankarAnthi
kanu uthsavam – ANdAL puRappAdu
thirumazhisai AzhwAr – 10 days completing on magam

mAsi

mAsi magam thIrthavAri at samudhram
theppa (float) uthsavam – 7 days
dhavana uthsavam – 7 days of pArthasArathy perumAL, 3 days for narasimhar, 1 day for varadharAja perumAL, 1 day for SrI rAma parivAr, 2 days for SrI ranganAthar and maNavALa mAmunigaL, 1 day for emperumAnAr

panguni

IkkAduthAngal – thiruvURal uthsavam
SrI rAma navami – 9 days
pallava uthsavam – 5 days
panguni uthram
All other AzhwArs/AchAryas thirunakshathra uthsavam celebrated for 1 day.
Timings
6am – viswarUpam
8am – nithyAnusandhAnam – thiruppallANdu, thiruppaLLiyezhuchchi, thiruppAvai
6pm – nithyAnusandhAnam – see sEvAkAla kramam section
9pm – aravaNai/sayanam
sEvAkAla kramam
Daily sEvAkAla Kramam – http://acharya.org/kr/goshti/Thiruvallikkeni-GoshtiKramam.pdf
pArthasArathy/narasimhar brahmOthsavam gOshti sEvAkAla kramam – http://acharya.org/kr/goshti/Thiruvallikkeni-GoshtiKramam-Brahmotsavam.pdf
Based on AzhwAr/AchArya thirunakshathram – for example: mudhal thiruvandhAdhi on sravaNam, iraNdAm thiruvandhAdhi on avittam, etc.
When there is no thirunakshathram, thiruppallANdu, pUchchUttal, kAppidal, senniyOngu, amalanAdhi pirAn, viRperu vizahvum (periya thirumozhi – sthala pAsuram), thiruvAimozhi padhigams – ulagaumuNda peruvAyA, kangulum pagalum, Azhiyezha and kaNNinuN chiRu thAmbu are recited (all munnadi pinnadi)
For AzhwArs who have separate sannidhi, their own prabhandham will be recited in their sannidhi on their monthly thirunakshathram days.
For ALavandhAr, rAmAnusa nURRandhAdhi is recited in his sannidhi on every uthrAdam.
On thiruvAdhirai, rAmAnusa nURRandhAdhi is recited.
On thirumUlam, upadhEsa rathina mAlai and thiruvAimozhi nURRandhAdhi are recited.
puRappAdu kramam
thiruvONam – pArthasArathy puRappAdu
rOhiNi – pArthasArathy puRappAdu
punarpUsam – SrI rAma parivAr puRappAdu
hastham – varadharAjar puRappAdu
svAthi – narasimhar puRappAdu
EkAdhasi – pArthasArathy puRappAdu
amAvAsyai – pArthasArathy puRappAdu
mAsa pravEsam – pArthasArathy puRappAdu
Friday – thAyAr puRappAdu with siRiya thirumadal gOshti
Generally during puRappAdu, mUnRAm thiruvandhAdhi is recited.
Special notes
Presently, this is one of the few dhivya dhEsams where dhivya prabhandham is greatly thriving. Young and old SrIvaishNavas dedicate themselves in learning dhivya prabhandham and recite them for the pleasure of pArthasArathy emperumAn and other emperumAns.
Unique dhivya dhEsam where AzhwArs have performed mangaLAsAsanam to 5 emperumAns.
During the thirunakshathram of AzhwArs/AchAryas, pArthasArathy emperumAn (generally) accompanies the particular AzhwAr/AchArya during sARRumuRai puRappAdu.
Legend says that kEsava sOmayAji performed puthra kAmEshti yAgam here and prayed for offsprings to pArthasArathy emperumAn who was instrumental in the birth of SrI rAmAnuja. It is said that pArthasArathy emperumAn himself appeared as SrI rAmAnuja.
pEyAzhwAr – mUnRAm thiruvandhAdhi 16
thirumazhisai AzhwAr – nAnmugan thiruvandhAdhi 35
thirumangai AzhwAr – periya thirumozhi 2.3 padhigam
Thanks to Smt sumithrA varadharAjan for passing along sthala purANam and old/rare images.
Sri Parthasarathy swamy temple
Triplicane
Chennai 600005
Official Website: www.sriparthasarathytemple.tnhrce.in
Mail: parthasarathyswamytemple@gmail.com
Phone: Counter: +91 44 28442449,
+ 91 44 28442462
Deputy Commissioner/ Executive Officer,
Superintendent and Manager landline No.:
Phone: +91 44 28442462,
Fax : +91 44 28447042