SrI: SrImathE SatakOpAya nama: SrImathE rAmAnujAya nama: SrImath varavaramunayE nama:
History
thirukkuRungudi dhivya dhEsam is located close to the southern tip of bhAratha  dhEsam. It is in close proximity to vAnamAmalai dhivya dhEsam and is part of pANdiya nAttu dhivya dhEsams. It is also known as vAmana kshEthram. It is on the banks of nambiyARu (nambi river) and at the foot hills of mahEndhra giri.
5 garuda sEvai during 5th day of brahmOthsavam
 thirukkuRungudi nambi with nAchchiyArs
emperumAn (azhagiya nambi rAyar) is seen in 5 different forms in this dhivya dhEsam. nambi generally means guNa pUrNa (one who is filled with auspicious qualities). The main perumAL in this dhivya dhEsam is ninRa nambi (standing nambi). To his left, there are 2 other sannidhis – where kidandha nambi (sleeping nambi) and irundha nambi (sitting nambi) are seen. Outside the main temple, in a separate temple, there is thiruppARkadal nambi (kshIrAbdhinAthan – vAmana nambi). On the top of mahEndhra giri (mahEndhra mountain), there is a separate sannidhi for malai mEl nambi. There is a beautiful waterfalls and running stream of water near the sannidhi. Thus we have 5 nambi emperumAns in this dhivya dhEsam. Also, mUlavar emperumAn is seen in varNa kalAbam (colored form) which is unique and is seen only in few dhivya dhEsams.
In kaisika purANam, malai mEl nambi – nampAduvAn – brahma rAkshas charithram is beautifully narrated. When nampAduvAn (a great devotee of nambi emperumAn) was once walking through the forest on the hill towards the hill-top temple to sing songs in glorification of emperumAn in kaisika paN (rAgam – tune), he was stopped by a brahma rAkshas (a brAhamaNa who was born in to a rAkshas family due to performing of yAgam with lots of mistakes and not atoning for the same). The brahma rAkshas wanted to eat nampAduvAn – but nampAduvAn says he was going to the hill-top temple where perumAL will be waiting to hear his divine songs. nampAduvAn promises that he would visit the brahma rAkshas on his return from the temple and offer himself as food for the rAkshas. rAkshas does not trust nampAduvAn. So, nampAduvAn declares many facts and based on them vows to offer himself as food on his return. As a last resort, he declares that if he does not return and offer himself, he will accumulate the sin of considering other dhEvathas (like brahmA, rudhran, indhran, etc) at the same level as SrIman nArAyaNan and worshipping them. Hearing this, the rAkshas becomes convinced and allows him to proceed to the temple. nampAduvAn reaches the temple and sings his divine songs for the full pleasure of nambi emperumAn. While taking leave he informs nambi emperumAn about the incident that happened while coming there. He then returns to the brahma rAkshas. The brahma rAkshas feels bad to eat such noble soul, enquires about the songs and wants to know more about nampAduvAn. nampAduvAn then explains the divine glorifications of emperumAn to the brahma rAkshas. The brahma rAkshas then requests nampAduvAn to relieve him from his sufferings of being a rAkshas. He asks nampAduvAn to give the fruits (good deeds) of his glorifications to emperumAn so that he can be relieved from his condition. nampAduvAn initially refuses saying he cannot ask for any favours from emperumAn in return for his glorifications. But finally, looking at the pityful state of the brahma rAkshas, he requests emperumAn to relieve the brahma rAkshas from the painful position. bhagavAn mercifully blesses the brahma rAkshas and he becomes free from his rAkshas body. This charithram is enacted even today on kaisika EkAdhasi night every year in this dhivya dhEsam. A commentary is available for the slOkams narrating the whole charithram (incident) and is said to be written by parAsara bhattar. This is recited in most dhivya dhEsams on kaisika dhvAdhasi day (The EkAdhasi and dhvAdhasi which occurs before vaikuNta EkAdhasi).
mahEndhra giri is also the place from where thiruvadi (hanumAn) crossed over to lankA. It is from the top of this hill on which he stood and jumped from to cross over the sea.
rudhran also has a place in this temple. thirumangai AzhwAr has identified him as "pakkam ninRAr" (one who stood in the side of ninRa nambi). He arrived here to get relieved from the curse of brahma haththi (plucking the head of brahmA), stays here and woships nambi emperumAn.
nammAzhwAr greatly enjoyed thirukkuRungudi nambi emperumAn in his thiruvAimozhi pAsurams. Specifically, nammAzhwAr enjoyed the divine physical appearance of nambi emperumAn in his pAsurams. thirumazhisai AzhwAr, periyAzhwAr and thirumangai AzhwAr have also performed mangaLAsAsanam to nambi emperumAn.
Also, in 6000 padi guru paramparA prabhAvam, nammAzhwAr's divine birth is beautifully narrated. It is said that nammAzhwAr's parents were child-less for a long time and they arrived at thirukkuRungudi and prayed to nambi emperumAn for an offspring. nambi tells them through the archaka that he himself will be born as their child. Eventually nammAzhwAr appears as their son. Though nammAzhwAr is explained by our pUrvAchAryas as a jIvAthmA who was hand-picked and divinely blessed by emperumAn to reform and uplift every one, from this charithram we can understand the special relationship between thirukkuRungudi nambi and nammAzhwAr and also understand that thirukkuRungudi nambi's blessings are fully bestowed on nammAzhwAr.
thirumangai AzhwAr, after his many dhivya dhEsa yAthrAs, finally arrive at thirukkuRungudi and ascends to paramapadham from this dhivya dhEsam.
thirukkuRungudi nambi becoming srIvaishNava nambi
Subsequently, during srI rAmanuja's life, he visits this dhivya dhEsam a few times and perform mangaLAsAsanam to nambi emperumAn. thirukkuRungudi nambi, being amazed at SrI rAmanuja's ability to uplift many, himself becomes the sishya of SrI rAmanuja and acquires a dhAsya nAmam (SrIvaishNava name) called "SrIvaishNava nambi". emperumAnAr takes the position of AchArya and explains dhvaya mahA manthram to nambi here. Also, in one of the incidents, nambi himself arrives in the disguise of vaduga nambi (who is a dear sishya of emperumAnAr) and serves emperumAnAr at (pari)vattap pARai (A rock near the river on which emperumAnAr changes his clothes after taking bath and applies Urdhva puNdram). emperumAnAr himself applies the remainder of thirumaN to thirukkuRungudi nambi who arrived in the form of vaduga nambi.
During the times of mAmunigaL, under his own guidance, he engages his sishya (who is the king for the region) in many kainkaryams for this dhivya dhEsam.
This temple is under the control and administration of thirukkuRungudi jIyar mutt which is headed by SrImath paramahamsa ithyAdhi pEraruLALa rAmAnuja jIyar.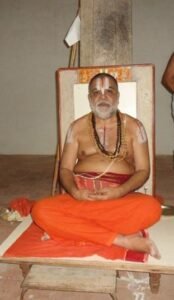 srImath paramahamsa ithyAdhi pEraruLALa rAmAnuja (varthamAna/current/50th pattam) jIyar swamy
Deities/uthsavams
There are several sannidhis and uthsavams that happen for the emperumAns, AzhwArs and AchAryas in this dhivya dhEsam.
Presiding deity

mUlavar/uthsavar – sundhara paripUraNan (ninRa nambi – standing posture) in varNa kalAbam (colored form)
mUlavar/uthsavar – irundha nambi (sitting posture) in varNa kalAbam
mUlavar/uthsavar – kidandha nambi (sleeping posture) in varNa kalAbam

thanikkOyil nAchchiyArs (separate thAyAr sannidhis)

kurungudi valli nAchchiyAr

SrI rAma parivAr
thirumangai AzhwAr, emperumAnAr, maNavALa mAmunigaL (uthsavars in thirumangai AzhwAr sannidhi)
rudhran, bhairavan in their own sannidhi
Outside the temple:
kaNNan sannidhi – inside prAkAram
malai mEl nambi – on the hilltop
thiruppARkadal nambi
thirumangai AzhwAr thiruvarasu – from where he ascended to paramapadham
thirupparivattap pARai – where emperumAnAr performed his morning anushtAnam – emperumAnAr mUlavar
uthsavams
chithrai

emperumAnAr – 10 days completing on thiruvAdhirai. On last day, perumAL and emperumAnAr in EkAsanam (single throne). perumAL accepting thirumaN kAppu from emperumAnAr (since emperumAnAr is his AchAryan). puRappAdu for perumAL and emperumAnAr in the evening.
1st jIyar thirunakshathram – sravaNam – perumAL and emperumAnAr arrive at the mutt.
vasanthOthsavam – 10 days – concluding on chithrA paurNami. perumAL visits nandhavanam (garden) one of the days.

vaikAsi
Ani

sravaNam – jyEshtAbishEkam

Adi

Adi svAthi – first puRappAdu after jyEshtAbishEkam – garuda sEvai
ANdAL – one day uthsavam on thiruvAdi pUram

AvaNi

svAthi – garuda sEvai – commemorating first samprOkshaNam day
sravaNam – wears a special silk dhOti offered by kEraLA king
SrI jayanthi – 10 days uthsavam – rOhiNi/ashtami followed by uRiyadi uthsavam on the next day

purattAsi
aippasi

thiruvONam, avittam, sathayam – each 1 day uthsavam for mudhalAzhwArgaL (first 3 AzhwArs)
navarAthri uthsavam – 9 days
vijaya dhasami
maNavALa mAmunigaL uthsavam 10 days completing on thirumUlam
dhIpAvaLi/amAvAsyai

kArthigai
mArgazhi

dhanur/mArgazhi mAsam kramam
adhyayana uthsavam
vaikuNta EkAdhasi (rA paththu beginning)
vIdu vidai uthsavam (day after rA paththu completion)

thai

sankarAnthi
brahmArAdhanam – special thiruvArAdhanam at rA paththu
thirumazhisai AzwAr – magam one day

mAsi

theppOthsavam (float festival) – 2 days completing on paruNami –  1 day for ninRa nambi, 1 day for malai mEl nambi

panguni

perumAL brahmOthsavam – 11 days completing on sravaNam with thIrthavAri
Note: Any AzhwArs/AchAryas uthsavam not mentioned here – their thirunakshathra mahOthsavam celebrated for one day on their annual thirunakshathram day.
Thanks to nambi  sundhararAjan swamy for providing this information.
Timings
7am – viswarUpam
8 to 11.30am
12.30pm sARRumuRai at mutt followed by thadhIyArAdhanam
4.30pm sahasranAmam at mutt
4.30pm to 8pm
puRappAdu kramam
thiruvONam – perumAL puRappAdu
punarpUsam – SrI rAma parivAr puRappAdu
EkAdhasi – perumAL puRappAdu
amAvAsyai – perumAL puRappAdu
mAsa pravEsam – perumAL and ubhaya nAchchiyArs puRappAdu
Friday – perumAL and kuRungudi valli nAchchiyAr puRappAdu
sEvAkAla kramam
Morning

thiruppallANdu, thiruppAvai, kaNNinuN chiRu thAmbu
kArthigai – thirumangai AzhwAr – thirukkuRunthANdagam, thirunedunthANdagam
thiruvAdhirai – emperumAnAr – rAmAnusa nURRandhAdhi
thirumUlam – mAmunigaL – upadhEsa rathina mAlai, thiruvAimozhi nURRandhAdhi

Evening

thiruppallANdu, pUchchUttal, kAppidal, chenniyOngu, amalanAdhipirAn, thirumozhi (EzhAi Ethalan, thavaLa viLam piRai, akkum puliyum), thiruvAimozhi (enganEyO, nORRa nOnbilEn, ArAvamuthu, ulagaumuNda peruvAyA, kangulum pagalum, Azhiyezha)
thiruvAdhirai, thirumUlam – dOlOthsavam at mutt – sthOthra pAtam

thiruvAdhirai – sthOthra rathnam, dhAti panchakam, yathirAja vimsathi
thirumUlam – pUrva/uththara dhinacharyai
Special notes
mUlavar (stationary deity) is varNa kalAbham (colorful form) which is rare to see. His divine beauty is greatly cherished by nammAzhwAr.
kaisika EkAdhasi/dhvAdhasi is celebrated with great joy with a drama enacted in a traditional manner explaining the charithram of nampAduvAn.
Thanks to nambi  sundhararAjan swamy for providing this information.
thirumazhisai AzhwAr – thiruchchandhaviruththam – 61
nammAzhwAr – thiruvAimozhi 1-10-9, 3-9-2, 5-5
periyAzhwAr – periyAzhwAr thirumozhi 1-6-8
thirumangai AzhwAr – periya thirumozhi 1-7-8, 6-3-2, 6-3-3, 9-5, 9-6, thirunedunthandagam 14
SrImath paramahamsa ithyAdhi pEraruLALa jIyar (Hereditary trustee)
jIyar mutt, thirukkuRungudi
Contact: muraLi swamy (91-9443205739), kaNNan swamy (91-9940331172)