SrI:  SrImathE SatakOpAya nama:  SrImathE rAmAnujAya nama:  SrImath varavaramunayE nama: SrI vAdhikEsarI saumyajAmAthru munayE nama:
History
SrI perumAL kOyil vAdikEsari azhagiya maNavALa jIyar mutt is an important institution in our sampradayam, which was established by periya jIyar kOyil selva maNavALa mAmunigaL Himself, and succeeded by His prashishya 'vAdikEsari azhagiya maNavALa jIyar' (shishya of paravAsthu bhattarpirAn JIyar – who was, in turn, one of the ashta diggajas of mAmunigaL). It is located in chinna kAnchIpuram, right behind perumAL kOyil – opposite to the eastern rAjagOpuram (the regular entrance to varadarajar kOyil is on the western side).
The mutt has had a jubilant history with many learned scholars donning the Acharya pItam, including the mAthAmahar (maternal grandfather) of kanchI mahAvidwAn SrI U.Ve.PB annangaAacharya swAmi (popularly called 'shashti jIyar swAmi'). Historians have shown with ample proof that the jIyar swamis in the lineage of this mutt have carried out many great kainkaryams in the divyadesams in and around kanchIpuram, including tUppul, tirupputkuzhi, etc. The jIyar swamis of this mutt have also been the 'kOyil kELvi's (chief administrators of the temple) at perumAL kOyil for a long period. The mutt also boasts of many shishyas from places far and wide.
It is said that when maNavALa mAmunigaL visited kAnchipuram for the second time in 1420 A.D. after taking to sanyAsam – in order to discourse on SrI bhAshyam, He needed a mutt to stay. That is when this glorious mutt was built. Later, maNavALa mAmunigaL appointed one of His prashishyas (disciple of His disciple) as the caretaker of the mutt, who was later to become the "kELviyappan" of perumAL Koyil. That happened to be azhagiya maNavALa JIyar, who was the disciple of paravAsthu bhattarpirAn jIyar. The Acharya in this pItam was later awarded with the title 'vAdhikEsari' (probably due to His debating skills), which has been traditionally affixed to the names of the jIyar swamis down the generations. Thus, the glorious Acharya lineage in the mutt began with the auspices of none other than maNavALa mAmunigaL Himself!
Many people think that SrI vAdikEsari azhagiya maNavALa jIyar – the first pItadhipathi of the mutt – was same as the shishya of periyavAchchan piLLai (who was also named vAdikEsari azhagiya maNavALa jIyar). However, the records of mutt show that the mUlapurushar here was different, and lived in the 15th century, contemporary to manavALa mAmunigaL Himself (as against the author of 12000 padi, who lived in the 13th century), as said above.
The kainkaryam of all the Acharyas in the mutt's lineage to pEraruLAlan have thence continued till date, beginning right from the 1st jIyar swami who built the third prakAram wall in kAnchi temple about 500 years ago up to the 19th pattam jIyar swAmi who renovated the eastern rajagOpuram as recently as about 5-10 years back.
The Acharyas in the lineage of azhagiya maNavALa jIyar mutt have done tremendous kainkaryams to dEvaperumAL and perundEvi thAyAr of kAnchIpuram. Historians have also shown that some jIyar swamis in this lineage have also contributed liberally for the development of other divyadhEsams in and around kAnchIpuram as well (famously counted as 18 in number).
The wall on the third prakAram of perumAL kOyil was built by azhagiya maNavALa jIyar. In addition to it, many more structures within the temple such as 100 pillared maNtapam, the maNtapam in front of thAyAr sannidhi (called 'mahAnavami maNtapam'), the extension on the western side of abhishEka maNtapam, etc. are also said to have been built by this jIyar swAmi. To commemorate such divine kainkaryams, a statue of this jIyar swAmi has been carved on pillars in the temple in various places such as in mahAnavami maNtapam, thAyAr sannidhi (Unjal maNtapam), 100 pillared maNtapam, etc.
Historic records show that the jIyar swAmis in this lineage have donated many lands/villages for the income of the temple in order to conduct the various uthsavams regularly, as early as in the 14th to 16th centuries. One such village that was donated to the temple was in the name of the jIyar Himself, called 'azhagiya maNavALa jIyar puram' in those days. Nowadays it seems to be called 'pogaipakkam' (near Arakkonam).
Temple inscriptions in kAnchi also show that the shishyas of azhagiya maNavALa jIyar have built certain maNtapams and prakArAs in deepapraAasar sannidhi and maragadhaavalli thAyAr sannidhi at tUppul at the behest of the jIyar swAmi.
The jIyar swAmi who held the pItam during the 16th century is also said to have donated a certain ornament to dEvapperumAL, called 'nIla vandu padhakkam'. Also, a person by name 'vEngatAdhvari' seems to have donated diamond studded crowns called 'vEngAtadri (vEngatAdhvari) koNdai' to namperumAL of SrIrangam and dEvaperumAL of kAnchIpuram. This vEnkatAdhvari is said to be the shishya of azhagiya maNavALa jIyar. Even to this day, one can see the room where he lived within dEvaperumAL temple to conduct his kainkaryams (right next to sEnai mudaliyar sannidhi). It was somewhere around that time (around the late 15th or early 16th century) that the azhagiya maNavALa jIyar swAmis in the lineage are said to have been appointed as 'kOyil kELvi's for perumAL kOyil.
A certain stone inscription from the 16th century seems to indicate that the chariot of varadaraja perumAL was donated to the temple by the famous ruler krishnadEvaraya of vijayanagara empire. There, he is said to have consulted azhagiya maNavALa jIyar for His opinions and suggestions on the route that should be taken by the chariot. The shishyas of the mutt seem to have served in various capacities in the courts of Vijayanagar and Mysore kingdoms. The jIyar swamis themselves are also said to have guided the rulers as their 'rAjaguru's for some time.
In earlier days, dEvaperumAL seemed to travel all the way to mahAbalipuram for the pArvettai uthsavam. Since that was quite far from the temple, and also due to the fear of dacoits at later dates, azhagiya maNavALa jIyar – who was the kOyil kELviyappan – decided to change the destination. He then identified a village close to kAnchi, which was only about 15km away from the temple, on the banks of pAlar river (near thiru-mukkUdal). Inscriptions show that this place was hence called 'jIyar puram', which later came to be called 'chIvaram'. Today, it seems to be called 'pazhaiya seevaram'. jIyar swami is said to have built a maNtapam atop a hillock in this village. Even to this day, dEvaperumal goes to this maNtapam for pArvEttai and returns. This happens in January every year (kanu pArvEttai utshavam).
The jIyar swAmis in the lineage of this mutt are said to have been highly learned scholars in both Sanskrit and Tamil vEdantAs. One jIyar swAmi in this lineage is said to have compared the similarities in the tenets expounded in SrI bhAshya of swAmi (emperumAnAr) and the first two tiruvAimozhis of nammAzhwAr (uyarvaRa and vIdumin dashakams), and composed a grantham named "SrIbhAshya-dramidaugha-aadya-dashakadvaya-aikakanthyam". Even the grandfather (mAthAmahar) of kAnchi mahAvidwAn SrI U Ve prativadhi bhayankaram annangarachAriar swAmi is said to have donned the AchArya pItam in this lineage. He was popularly called 'shashti jIyar swAmi'. SrI PBA swAmi is said to have mastered all commentaries of purvacharyas from shashti jIyar swami in his early years.
Some of the well-known jIyar swAmis in this lineage (as noted in a book called 'SrI kAnchi azhagiya maNavALa jIyar madaththin varalARu') are: EchchambAdi rAmAnuja jIyar swAmi – who is said to have given 18 temples in and around kAnchi a facelift, thirunArAyaNapuram anantanpiLLai akkArakkani rAmAnuja jIyar swAmi, chinna vinjimUr swAmi – known for His expertise in SrI vachana bhUshaNam, periya vinjimUr swAmi – who is said to have envisioned ubhaya vEdAntham in His dream, and shashti jIyar swAmi – a scholar par excellence and the grandfather of SrI PBA swAmi – among others.
This mutt is said to have had branches in some of the major divyadhEsams such as SrIrangam, AzhwAr thirunagari, thirumalai, thiruvallikkEni, and thirunArAyaNapuram among others. But most of them have gone unidentifiable, except for thiruvallikkEni (near theLLiya singar sannidhi) and thirunArAyaNapuram (on the banks of kalyani thIrtham).
Apart from these, there is also a branch at Bangalore near Seegehalli on Magadi main road.
Mutt sannidhi:
Presiding deity

SrI perundhEvi nAyikA samEdha SrI dhEvAdhirAja perumAL,
SrI lakshmi narasimhar
thiruvEngadamudaiyAn

AzhwArs
Acharyas
uthsavams
The thirunakshathrams of known jIyar swAmis are being conducted on an yearly basis. They are as given below:
chithrai

rOhiNi (gOvindha rAmAnuja jIyar swAmi – 15th pattam)
thiruvAdhirai (emperumAnAr)

vaikAsi – visAkam (nammAzhwAr)
Adi – rEvathi (yathIndhra pravana rAmAnuja jIyar swAmi – 18th pattam)
aippasi

thirumoolam (periya jIyar)
uthrattAdhi (sampathkumara rAmAnuja jIyar swAmi – prakrutham 21st pattam)

kArthigai – kEttai (vishnuchiththa rAmAnuja jIyar swAmi – 19th pattam)
thai – thiruvAdhirai (yathIndhra pravana rAmAnuja jIyar swAmi – 20th pattam)
panguni – mrgasIrsham (vadikEsari azhagiya maNavALa jIyar – mUla purushar)
Apart from these, special thiruvArAdhanams are conducted for important festivals like SrI jayanthi, SrI rAma navami, SrI narasimha jayanthi etc.
The names of the twenty jIyars who headed the mutt previously – along with the prakritam swAmi – are as follows, in that order (note: the records and even the paramparai thaniyans show that the jIyars who headed the mutt between 15th and 17th centuries were mostly called by the same name, so one would find the same name repeating in the first few places). Their thaniyans and tirunakshatram/thIrtham details are also given, where the information is known authentically:
vAdhikEsari azhagiya maNavALa jIyar (mUlapurushar)
saumyopayantRumunilabdha-rahasyabodham
vedAntatattva-viSadIkaraNa-pravINam
kAnchyAdi-divyatala-dIpta-maThAdhinAtham
SrIvAsaramyavarayoginam ASrayAmaH ||sundarajAmAtRumuneH prapadye caraNAmbujam |
saMsArArNavasammagna-jantu-santArapotakam ||
asmaddhitaparitrANa-premapradrANamAnasam |
vAdikesarinaM vande saumyajAmAtaraM munim ||
vAdhikEsari azhagiya maNavALa jIyar (shishyan of kandhAdai annavilappangar swAmi)
vAdhUla-venkaTa-gurUttama-labdhatattvam
tasmAdavApta-SaThajit-jagadAdisUktim |
SrIvenkaTArya-parilabdha-yatIndraBAShyam
SrIvAsaramyavarayoginam ASrayAmaH ||
vAdhikEsari azhagiya maNavALa parAnkusa rAmAnuja jIyar
SrIvAsaramyavarayogi-padAbjaBhRungam
tasmAdavApta-nigamAnta-rahasyabodham |
prajnAnidhiM SamadamAdi-guNairupetam
vande parAnkuSamuniM vararamyapUrvam ||
vAdhikEsari azhagiya maNavALa jIyar (probably the one who headed the mutt during the 16th century, and was considered as a "gem of kAnchi")
SrIvAsaramyavarayogi-padAbjaBhRungam
tasmAdavApta-vakuLABaraNAdisUktim |
vairAgya-Bakti-guNaratna-mahAmburASim
kAnchIpurIvaravaraM munimASrayAmaH ||
vAdhikEsari azhagiya maNavALa jIyar
SrIvAsaramyayogIndra-padapankeruhASrayam |
tatprAptoBayavedAntaM tannAmakamuniM Baje ||
vAdhikEsari azhagiya maNavALa jIyar
SrIvAsaramyavarayogi-padAravinda-
dvandvaikaBhRungam anavadyaguNABirAmam |
vedAntayugmaviSadIkaraNapravINam
prajnAnidhiM varavaraM munimASrayAmaH ||
vAdhikEsari azhagiya maNavALa parAnkusa rAmAnuja jIyar
SrIvAsaramyavarayogipadAbjahaMsam
tadvIkShaNAtta-nigamAnta-rahasyatattvam |
SAntyAdi-mangaLaguNAmRuta-vArirASim
SrImatparAnkuSa-yatIndram ahaM BajAmi ||
vAdhikEsari azhagiya maNavALa jIyar
SrIvAsaramyavarayogi-kRupAttatattvam
tatpAdapadma-yugaLArpita-cittavRuttim |
tacCiShyamAdimunitoShTamamAspade&smin
ADhyaM guNairvaravaraM munimASrayAmaH  ||
vAdhikEsari azhagiya maNavALa jIyar (also called "azhaiththu vAzhvitta jIyar")
SrIvAsaramyavarayogi padAbjaBhRungam
tasmAdavApta nigamAntayuga-pravINam
AhUyarakShaka-padArpita-cittavRuttim
saumyopayantRumunim anvaham ASrayAmaH ||
periya vinjimUr swAmi (the one who envisioned ubhaya vEdAntam in His dream)
SrIvAsaramyavarayogi-padAbjaBhRungam
tatprAptavedamakuTI-yugaLArthajAlam |
svapnAptasanniyamanaM guNaratnasindhum
kAnchIpurIvaravaraM munimASrayAmaH ||
vAdhikEsari azhagiya maNavALa jIyar
SrIkAnchIpuranAtha-ramyayatirAT-pAdAbja-BhRungAdhipam
SrIvAgBUShaNa-gUDhatattva-viSadIkAraM kRupAsAgaram |
kainkarye niratAnurAgam amalaM devAdhirAjapriyam
vande&nantaguNABirAmam atulodAraM yatIndraM sadA ||
thirunArAyaNapuram ananthanpiLLai akkArakkani rAmAnuja jIyar
SrImadvAdimRugendra-saumyavarajAmAtrAKyarAmAnuja-
svAmi-svaira-kaTAkShavardhita-jagatpraKyAta-turyASramam |
SrImadyAdavaSaila-saumyavarajAmAtrAKya rAmAnujam
vande vedayugArthadaM yatipatiM kAnchImaThAdhISvaram ||
IchchambAdi rAmAnuja jIyar swAmi (the one who gave a facelift to 18 temples in and around kAnchi)
SrI kAnchI-yatiSaila-ramyavarayogIndrAnghri-BhRungAdhipam
kAnchyaShTAdaSa-divyadeSa-Bagavat-kainkarya-dhuryAnvayam
vedAntadvaya-pAragaM yativarendrAraptaturyASramam
SrImatsundarayogivaryam atulodAraM yatIndraM Baje ||
chinna vinjimUr swAmi (a rare exponent in SrI vachana bhUshaNam)
kAnchIyatIndrapAdAbjaBhRungaM vairAgyaBUShaNam |
SrIvAgBUShaNatattvajnaM vande saumyavaraM munim ||
vAdhikEsari azhagiya maNavALa gOvindha rAmAnuja jIyar  (shashti jIyar in all probability)
SrImatkAnchI-viBu-SrInidhi-varada-kRupAlabdha-saMnyAsayogam
SrImacCeShAnvaya-SrInidhiguru-karuNAlabdha-vedAntatattvam |
SrIkAnchI-yAdavAdri-pramuKa-maThaguruM ramyajAmAtRupUrvam
SrImadgovindarAmAnujamunim anaGaM BaktisAraM prapadye ||
vAdhikEsari azhagiya maNavALa parAnkusa rAmAnuja jIyar
kAnchI SrI ramyajAmAtRu maThAdhISvaramujvalam |
vande parAnkuSABiKya rAmAnujamuniM gurum ||
vAdhikEsari azhagiya maNavALa rAmAnuja jIyar (mudumbai rAmAnuja jIyar – mysUre/mElkOte)
saumyopayantRumunilabdha turIyayogam
SrIvAdikesarImunIndra-padABiShiktam |
sampatkumAra-varapUrva-padopapannam
rAmAnujaM munivaraM SaraNaM prapadye ||
vAdhikEsari azhagiya maNavALa yathIndra pravana rAmAnuja jIyar (also famously known as "ashtagOthram swAmi")
thirunakshathram: Adi – rEvathi;
kAnchIyatIndra-maTha-nirvahaNa-pragalBam
vedAntayugma-viSadIkaraNa-pravINam |
saumyopayantRumunivarya-samAKyamIDe
SrImadyatIndracaraNa-pravaNaM munIndram ||
vAdhikEsari azhagiya maNavALa vishnuchiththa rAmAnuja jIyar ("nallappa jIyar"):
thirunakshatram: kArthigai – kEttai;    thIrtham: aippasi shukla chaturdashi;
SrI kAnchIvarayogipungavamaThAsthAne suSoBAvaham
SrImadvenkaTayogivaryakaruNAsamprAptaturyASramam |
SrImadBaktidhanoktikArikalijitsampatpradAyipriyam
SrImantaM yatiSeKaraM guNanidhiM SrIviShNucittaM Baje ||
vAdhikEsari azhagiya maNavALa yathIndra pravana rAmAnuja jIyar ("raghunAtha jIyar")
Tirunakshatram: Thai – thiruvAdhirai;
SrImatkAnchImaThAdhISaM vedAntArthasamudBavam |
SrImadyatIndrapravaNaM rAmAnujamuniM Baje ||
varthamAna jIyar swAmI – SrI vAdhikEsari azhagiya maNavALa sampathkumAra rAmAnuja jIyar swAmi is a scholar par excellence. He is popularly known for having authored 'periya thirumozhi nURRandhAdhi' (akin to 'thiruvAimozhi nURRandhAdhi' of periya jIyar).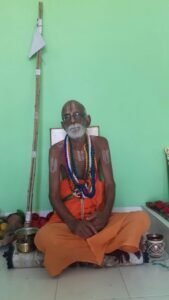 thirunakshatram: Aippasi – uththrattAdhi;
SrImacCaThAriyativaryakRupAttasattam
hastyadrinAthagurulamBitasarvabodham |
SrIdevarAjapadapankajasevanotkam
sampatkumAravaravaryayatIndramIDe ||
NOTE: The order given here could not be found in any written records. However, this order was deduced based on the order of occurrence of the names/deeds of jIyars in the paramparai thaniyans of the mutt.
jIyar swAmi sanchAram details
Upcoming schedule for jIyar swAmi:
thirunArAyaNapuram vijayam – 19th July 2017 (arrival at thirunArAyaNapuram by evening)
chAturmAsya sankalpam – 20th July 2017 – at thirunArAyaNapuram mutt.

nithya thadIyArAdhanam and kAlakShEpams to be held at SrI mutt during swAmi's chAturmasyam.
samAshrayaNam to be done for all seekers.
Contacts
Sri Kanchi Vadhikesari Azhagiya Manavala Jeeyar Mutt
#19, East Mada street, Little Kanchipuram – 631503
Ph: SrInivAsa Rajan swami – (+91)  96868 89607, 75984 80360
Email: vadhikesari@gmail.com
For any feedback on the website, please contact vadhikesari@gmail.com.