SrI: SrImathE SatakOpAya nama: SrImathE rAmAnujAya nama: SrImath varavaramunayE nama: SrI vAnAchala mahAmunayE nama:
History
vAnamAmalai (thOthAdhri) also known as nAngunEri is one of the svayam vyaktha kshEthrams. emperumAn appears in archAvathAram through many ways – dhivya mangaLa vigraham (divine auspicious form) consecrated by rishis, kings, dhEvas, etc., and also as svayam vyaktham (appearing on his own). SrIrangam, thiruvEngadam (thirumalai), SrImushNam, thOthAdhri (thOtha parvam), pushkaram, sAlagrAmam, badhrikAsramam and naimisAraNyam are glorified as svayam vyaktha kshEthrams where emperumAn appears himself on his own will. Of these, thOthAdhri is of great importance, since nammAzhwAr performed mangaLAsAsanam to the emperumAn here and also performed his first saraNAgathi (surrender) for this dhivya dhEsam emperumAn.
thOthAdhri nAthan with SrI dhEvi, bhU dhEvi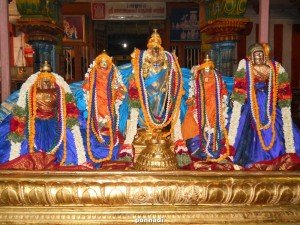 dheivanAyakan with SrIvaramangA nAchchiyAr, SrI dhEvi, bhU dhEvi, ANdAL
One of the unique features here is that, mUlavar emperumAn is also known by the name of the dhivya dhEsam, i.e., vAnamAmalai and thOthAdhrinAthan. He is surrounded by rishis, thiloththamai and Urvasi (damsels of dhEva lOkam) who descended to serve emperumAn in this dhivya dhEsam. Also, this dhivya dhEsam is named after the thAyAr SrIvaramangA nAchchiyAr as SrIvaramangala nagar. It is quite unique to see a dhivya dhEsam which is named after both perumAL and thAyAr.
It is said that bhrugu rishi performed great penance in this dhivya dhEsam and prayed that SrI mahAlakshmi appears as his daughter and SrIman nArAyaNan marries him there. Being pleased with his penance, perumAL and thAyAr blesses him and descends to this dhivya dhEsam. thAyAr appearing as the daughter of bhrugu rishi, marries perumAL and they both remain in this dhivya dhEsam.
ponnadikkAl jIyar (first pontiff of vAnamAmalai mutt) who was the earliest disciple of maNavALa mAmunigaL arrives at this dhivya dhEsam on the orders of dheivanAyakan emperumAn after acquiring permission of his AchAryan maNavALa mAmunigaL. This dhivya dhEsam is his avathAra (janma) sthalam too. He administers the temple, establishes a mutt named SrI vAnamAmalai mutt adjacent to  the temple and performs many renovations at the temple here and in many other dhivya dhEsams. Though there was a mUlavar deity for SrIvaramangA nAchchiyAr (SrI mahAlakshmi), there was no uthsavar vigraham (deity) for thAyAr. It was during the life-time of ponnadikkAl jIyar, when thAyAr (SrI mahAlakshmi) herself appeared in the dream of ponnadikkAl jIyar when he was in thiruppathi as part of a yAthrA and instructed him to accept her as his own daughter, carry her from thiruppathi to vAnamAmalai and perform her divine wedding ceremony with dheivanAyagan (uthsavar) emperumAn of vAnamAmalai dhivya dhEsam.
ponnadikkAl jIyar with great joy, accepted her as his daughter and performed her wedding with emperumAn according to her divine wish. Henceforth, all jIyars coming in his lineage in this SrI vAnamAmalai mutt are given the honorary position of being the father to thAyAr herself.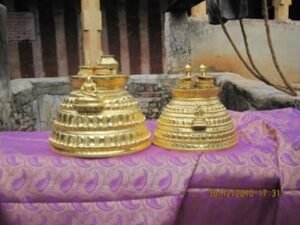 nammAzhwAr in SrI satagOpam and ponnadikkAl jIyar in ponnadiyAm sengamalam (mAmunigaL's pAdhukA)
Specialities:
dhivya dhEsam is named after perumAL (vAnamAmalai) and thAyAr (SrIvaramangalanagar) as well – yet, great significance for thAyAr here.
Daily eNNAik kAppu (oil anointing) for mUlavar. A separate oil well is maintained inside the temple complex.
nammAzhwAr performs his first saraNAgathi here in thiruvAimozhi. nammAzhwAr does not have separate thirumEni (vigraham) here – he is present in the SrI satagOpam (satAri) of perumAL itself
fully attached to the vAnamAmalai (thOthAdhri) mutt which was established by ponnadikkAl jIyar (first sishya of maNavALa mAmunigaL)
SrIvaramangA nAchchiyAr is considered as the daughter of ponnadikkAl jIyar (and all the jIyars coming in the glorious lineage) – thus visits mutt during various occasions with perumAL.
The temple comes under the administration of ponnadikkAl jIyar and his descendants who are subsequent pontiffs of SrI vAnamAmalai mutt. Currently SrImath paramahamsa ithyAdhi madhurakavi rAmAnuja jIyar swamy is the AchAryan (31st pattam) in the mutt.
SrImath paramahamsa ithyAdhi madhurakavi rAmAnuja jIyar (current/varthamAna/31st pattam) swamy
Deities/uthsavams
Inside the temple:
Presiding deity
thanikkOyil nAchchiyArs (separate thAyAr sannidhis)
SrI rAma parivAr
lakshmI narasimhar
vENu gOpAlan with rukmiNi and sathya bAmA
chakkarathAzhwAr
AzhwArs (no separate archchA vigraham or sannidhi for nammAzhwAr since he is directly present in SrI satagOpam of emperumAn)
garudAzhwAr sannidhi
Outside the temple:
krishNan temple at the entrance of the town
ponnadikkAl jIyar at SrI vAnamAmalai mutt
pakshirAjan (garudAzhwAr sannidhi) – north-east corner of temple madhiL (outer wall)
thiruvEngadamudaiyAn – theRkuk kOyil (south temple)
mElak kOyil (west temple) – thiruvarasu (brindhAvanam) of all past jIyar swamys of SrI vAnamAmalai mutt
uthsavams
chithrai

dheivanAyaka perumAL brahmOthsavam – 11 days ending on chithrai hastham with thIrthavAri
chithrA paurNami
emperumAnAr uthsavam 10 days ending on thiruvAdhirai

vaikAsi

nammAzhwAr uthsavam 10 days ending on visAkam
vasanthOthsavam 5 days ending on sukla dhasami

Ani
Adi

ANdAL uthsavam 10 days ending on pUram
garudAzhwAr uthsavam 5 days ending on svAthi

AvaNi

SrI jayanthi – rOhiNi/ashtami followed by uRiyadi uthsavam on the next day
krishNan kOyil uthsavam
pavithrOthsavam 7 days starting on sukla EkAdhasi

purattAsi

ponnadikkAl jIyar uthsavam 10 days ending on punarpUsam  (at the mutt)
theRkuk kOyil uthsavam 5 days ending on sravaNam
mElak kOyil uthsavam 5 days starting on sravaNam
navarAthri uthsavam – 9 days
vijaya dhasami

aippasi

Unjal (jhUlA/swing) uthsavam 10 days ending on krishNa dhvAdhasi
maNavALa mAmunigaL uthsavam 10 days ending on thirumUlam
dhIpAvaLi

kArthigai

kArthigai dhIpam
thirumangai AzhwAr uthsavam 10 days ending on kArthigai

mArgazhi

dhanur/mArgazhi mAsam kramam
adhyayana uthsavam
vaikuNta EkAdhasi (rA paththu beginning)

thai

sankarAnthi
kanu uthsavam 7 days ending on kanu (day after sankarAnthi) – thAyAr and perumAL puRappAdu to SrI vAnamAmalai mutt
amAvAsyai – 1 kOttai (full measurement) of oil-anointing
theppOthsavam – 2 days starting on prathamai (after amAvAsyai)

mAsi
panguni

panguni uthram – thAyAr 11 days uthsavam ending on uthram
Timings
7am – viswarUpam (first at the mutt, next at mAmunigaL sannidhi and finally at perumAL sannidhi)
followed by thiruvArAdhanam/nithyAnusandhAnam at perumAL sannidhi with thiruppallANdu, kaNNinuN chiRu thAmbu, thiruppaLLiyezhuchchi, thiruppAvai gOshti and sARRumuRai
upadhEsa rathina mAlai gOshti at mAmunigaL sannidhi
gOshti and sARRumuRai at mutt
12.30 pm – thadhIyArAdhanam at the mutt
6.30pm – nithyAnusandhAnam at perumAL sannidhi or puRappAdu – nithyAnusandhAnam includes thiruppallANdu, periyAzhwAr thirumozhi padhigams 2.7, 2.8 and 5.5, amalanAdhipirAn, kaNNinuN chiRu thAmbu, thirumozhi padhigams 1.9 and 5.8, thiruvAimozhi padhigams 5.5, 5.7, 6.10 and 7.4 – Except for thiruvAimozhi 5.7 (nORRa nOnbilEn – sthala pAsuram) and 7.4 (Azhiyezha) – everything else is munnadi/pinnadi kramam only.
8.30pm – thiruvisAgam (aravaNai – sleep time)
puRappAdu kramam
thirumUlam – mAmunigaL
thiruvONam – perumAL
rOhiNi –  perumAL
punarpUsam – SrI rAmar
pUram – ANdAL
uthram – thAyAr
EkAdhasi – perumAL
amAvAsyai – perumAL
mAsa pravEsam – perumAL
Friday – perumAL and thAyAr
Special notes
Oil anointing for thOthAdhrinAthan (mUlavar) every day
During adhyayana uthsavam, pagal pathu – 2 different decorations for perumAL. On one day, perumAL adorns nammAzhwAr thirukkOlam (attire) – most unique and madhurakavi AzhwAr and nAthamunigaL accompanies him on that day
thAyAr has equal importance with separate 11 days uthsavam for her completing on panguni uthram
This is one of the temples where ramyajAmAthru thaniyan (honoring ponnadikkAl jIyar) is recited always after SrIsailEsa dhayApAthram thaniyan (honoring mAmunigaL).
thadhIyArAdhanam at mutt every day (except on EkAdhasi and when jIyar swamy is on yAthrA)
Address: srIvaramangA nAchiyAr/dheivanayAga perumAL temple, Nanguneri (vAnamAmalai) – 627108;
Phone: 04635-250159; 04635-250119 (office);
Fax: 04635-250636
Near by City: Tirunelveli, Nagerkoil
How to reach: Train, Buses, Autos, Taxis available from Tirunelveli/NagerkOyil to vAnamAmalai