SrI: SrImathE SatakOpAya nama: SrImathE rAmAnujAya nama: SrImath varavaramunayE nama:
History
 ANdAL and rangamannAr
SrIvillipuththUr is located to the south of thirumAlirunjOlai. The dhivya dhEsam is part of varAha kshEthram. The town used to be a forest. varAha swAmy took rest under banyan tree after the avathAr in this forest . Also, there was a demon named kAlanEmi who was giving troubles to all the rishis (sages). Upon their request, sriman nArAyanan summoned thiruvAzhi AzhwAn (sudharsana chakram) to kill the demon. After that, the three holy rivers gangA, yamunA & saraswathi were summoned to cleanse thiruvAzhi AzhwAn. The remains of them (holy rivers) form the river thirumukkuLam – kuLam (pond) made of mUnRu (three) rivers.
Once two kings villi and kanthan (brothers) came to this forest for hunting. It happened that a tiger killed kanthan, one of them. villi was searching for his brother. Then bhagavAn came in his dream and explained about the incident and also showed himself to Villi. Then Villi demolished the forest and created the town, hence the name SrIvillipuththur – puthu – new, Ur – town, villipuththur – the town that was created newly by villi.
The important glory to this dhivya dhEsam is as follows. periyavAchchAn piLLai in his nAchchiyAr thirumozhi vyAkyAnam proclaims that this dhivya dhEsam is made of maNi (gem), muthu (pearl) & pon (gold). It has the following internal meanings.
Also, this dhivya dhesam is very special that, perumAL, thAyAr and AzhwAr – all 3 of them taking birth. perumAL appeared as varAha and also archAvathAra emperumAn. bhUmi dhEvi thAyAr appears as ANdAL and periyAzhwAr too took birth here.
The temple here is affectionately known as nAchchiyAr thirumALigai – the residence of ANdAL nAchchiyAr. ANdAL nAchchiyAr is the prime focus of this dhivya dhEsam and all activities/uthsvams revolve around her presence. Also, the well in which ANdAL used to check her reflection after wearing the garland (to be submitted to perumAL) is still preserved.
periyAzhwAr and ANdAL have performed mangaLAsAsanam for this dhivya dhEsam emperumAns. During the times of SrI rAmAnuja, he visited thirumAlirunjOlai and fulfilled ANdAL's desire of submitting 100 pots of butter and akkAra adisil (sweet rice). After that he visits SrIvillipuththUr. At that time, ANdAL comes out of the garbagruham (inner sanctum) and affectionately calls out for emperumAnAr as "nam kOyil aNNar" (my dear elder brother – since elder brothers fulfill the desires of their little sisters). During mAmunigaL's times, he visits SrIvillipuththUr and performs many kainkaryams in this dhivya dhEsam through his sishyas.
The rAja gOpuram of this dhivya dhEsam is one of the tallest one and it is said that periyAzhwAr himself did this kainkaryam with the help of SrI vallabadhEvarAyan, the pAndiyA king. It is also the official emblem/symbol of thamizhnAdu government.
This is one of the dhivya dhEsams were arayar sEvai (reciting pAsurams with dance-steps) is still performed regularly.
In the inside prAkAram, dhivya dhEsa emperumAns, AzhwArs and AchAryas are beautifully painted.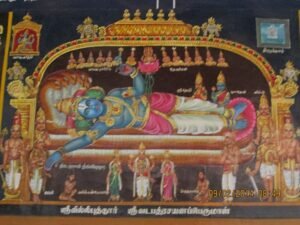 vadabadhrasAyi emperumAn painting in the inner prAkAram
AchArya purushas
Many AchArya purushas coming in the lineage of aruLALa perumAL emperumAnAr, nallAn chakravarthy,erumbiyappa etc., live in this dhivya dhEsam.
thIrthakramam:
arayar
periya nambi
vEdha pirAn bhattar
appan
thAthu ayyangAr
nallAr ayyangAr
jIyar
(other thIrthakAras)
vidhwAns (scholars)
Many vidhwAns have been born in this dhivya dhEsam. Many of them served as AsthAna vidhwAns of SrI vAnamAmalai mutt and SrI thirukuRungudi mutt. Some of them are listed here:
thirumalai periya kELvi appan sAdhu rAmAnujachAr swAmy
arayar SrI vadabadhrasAyI swAmy
vidhwAn SrI vinjimUr AzhwAr swAmy
thirumalai nallAn chakravarthy rAmakrishnamAchAr swAmy
vidhwAn SrI vinjimUr V.K. srinivAsAchAr swAmy
vidhwAn SrI gOvindhayyangAr swAmy
vidhwAn SrI vinjimUr vEngadAchAr swAmy (current AchArya of the thirumALigai)
Deities/uthsavams
There are several sannidhis and uthsavams that happen for the emperumAns, ANdAL nAchchiyAr, AzhwArs and AchAryas in this dhivya dhEsam.
First, inside the temple there are several emperumAns and AzhwArs/AchAryas.
Presiding deity

periya perumAL sannidhi

mUlavar – periya perumAL/SrI vadabadhra sAyi (vata – banyan tree, pathra – leaf, sAyi – one who is lying down)
uthsavar – periya perumAL with SrI dhEvi and bhU dhEvi nAchchiyArs

ANdAL sannidhi

Note: When emperumAnAr arrived here after his visit to thirumAlirunjOlai, ANdAL nAchchiyAr stepped out of garba gruham (inner sanctum) to the maNdapam in front of it to affectionately welcome her brother. Since then she has never gone back to the garbagruham and the uthsavars always stay in the maNdapam in front of the garba gruham.
garudAzhwAr
thiruvadi (hanumAn)/AnjanEyar
lakshminarayanar
lakshminarasimhar
gajalakshmi nachchiyar
lakshmi varahar
chakkarathazhwar
Please note that the last three sannidhis are not under the control of temple administration.
Outside the temple:
thiruvaNNAmalai SrInivAsa perumAL sannidhi
shenbagathoppu SrI kAttazhagar sannidhi
nadakasalai street SrInivAsa perumAL sannidhi
annamadam SrInivAsa perumAL sannidhi
thiruvEngadamudaiyan SrI aruLALaperumAL emperumAnAr sannidhi  (kuppanaiyengar mandapam)
krishNan kOyil SrI krishnar sannathi
chakkarakuLa street SrI varadharAjar sannidhi
uthsavams
chithrai

ANdAL rangamannAr –  nIrvAvi kOdai (summer) uthsavam – 10 days
Chithra paurnami
emperumAnAr uthsavam with thIrthavAri, puRappAdu & mangaLAsAsanam – 10 days completing on thiruvAdhirai

vaikAsi

ANdAL rangamannAr – vasantha (spring) uthsavam – 10 days,
nammAzhwAr uthsavam – 10 days completing on visAkam

Ani

periyAzhwAr brahmOthsavam with dhvajArohaNam completing on swAthi
muppazham uthsavam on Ani paurNami

Adi

ANdAL brahmOthsavam with dhvajArohaNam completing on pUram
Aadi swathi – sri garudAzhwAr thirunakshathiram

AvaNi

SrI jayanthi – rOhiNi/ashtami followed by uRiyadi uthsavam on the next day
vadabadhrasAyi emperumAn thiru-pavithrOthsavam

purattAsi

vadabadhrasAyi emperumAn brahmOthsavam with dhvajArohaNam completing on sravaNam
ANdAL navarAthri uthsavam – 9 days
vijaya dhasami

aippasi

Unjal (jhUla/swing) uthsavam – 7 days for ANdAL and 1 day for perumAL on paurnami

kArthigai

thirumangai AzhwAr uthsavam – 10 days with 4000 dhivya prabhandham sEvAkAlam completing on kArthigai
kaisika ekadesi – purana patanam
kArthigai dhIpam

mArgazhi

dhanur/mArgazhi mAsam kramam
adhyayana uthsavam – 20 days
vaikuNta EkAdhasi (rA pathu beginning)
nIrAtta uthsavam – 8 days

thai

sankarAnthi – mAmunigaL kaiththala sEvai to perform ANdAL nAchchiyAr on sankarAnthi
special celebration every Friday

mAsi

theppOthsavam (3 days) at thirumukkuLAm (divine pond)
annakoota uthsavam

panguni

thirukkalyANa uthsavam with dhvajArohaNam
Other AzhwArs and Acharyas 5,3 or 1 day uthsavam
Timings
6am – viswarUpam at ANdAL sannidhi
Daily Morning gOshti at periyAzhwAr sannidhi
nava-kalasa and snapana thirumanjanam for periyAzhwAr
periyAzhwAr being carried in kaiththalam (hands of archakars) and performing mangaLAsAsanam to vadabadhrasAyi emperumAn
Evening gOshti at ANdAL sannidhi
Evening gOshti at vadabadhrasAyi emperumAn sannidhi
6.30am – 12 noon
5pm – 8.30pm
puRappAdu kramam
thiruvONam – vadabadhrasAyi puRappAdu – thiruvezhukkURRirukkai
rEvathi – rangamannAr puRappAdu – siRiya thirumadal
swAthi – periyAzhwAr puRappAdu – siRiya thirumadal
pUram – ANdAL puRappAdu to thiru nandhavanam (garden) – nAchchiyAr thirumozhi
EkAdhasi – ANdAL puRappAdu – thiruvAsiriyam
amAvAsyai – vadabadhrasAyi puRappAdu – thiruvezhukkURRirukkai
mAsa pravEsam – vadabadhrasAyi puRappAdu – thiruvezhukkURRirukkai
Note: During anadhyayana period, it is a customary practice to recite upadhEsa rathina mAlai during puRappAdu and gOshti sEvAkAlam.
sEvkAkAla kramam
mangaLAsAsanam
periyAzhwAr – thiruppallANdu, periyAzhwAr thirumozhi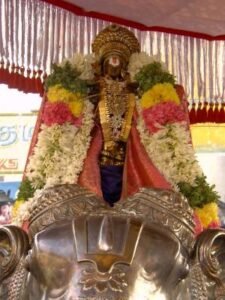 ANdAL – nAchchiyAr thirumozhi